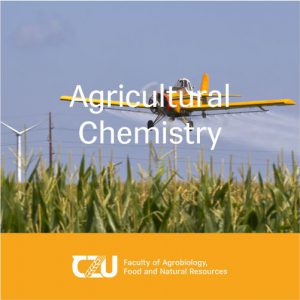 [mevo_title title="Study and Determination of Emerging Contaminants in the Environmental Components"]
[mevo_pricing_table active="yes" currency="EUR" period="month" title="Scholarship" price="400″ items="scholarship for full-time study 4 years present PhD study program starting date: October 1, 2021″]
[mevo_pricing_table active="yes" currency="EUR" period="month" title="Project salary" price="800″ items="Location: Prague, Czech Republic, Faculty of Agrobiology, Food and Natural Resources"]
[mevo_pricing_table active="yes" currency="EUR" period="month" btn_link="https://www.numbeo.com/cost-of-living/in/Prague" btn_text="CHECK" title="Living cost in Czechia" price="400″ items="Summary about cost of living"]
[mevo_about_me]
Please send application to makovcovak@af.czu.cz till 30.5.2021
Required documents:
– Diploma, diploma supplement (with nostrification if necessary)
– CV with the list of publications
For more information visit www.af.czu.cz/en.
[/mevo_about_me]
[mevo_about_me]
Position:
PhD student in Agricultural Chemistry program
Location:
Prague, Czech Republic, Faculty of Agrobiology, Food and Natural Resources, Czech University of Life Science
Supervisor:
prof. Ing. Pavel Tlustoš, CSc., dr.h.c.
tlustos@af.czu.cz
Salary:
scholarship for full-time study + extra project money
Starting date:
October 1, 2021
Term duration:
4 years present PhD study program Agricultural Chemistry[/mevo_about_me]
[mevo_about_me name="About workplace:"]Department of Agroenvironmental Chemistry and Plant Nutrition is focused on the management of
soil fertility
, the research of potentially
toxic elements
, persistent
organic pollutants
, and emerging contaminants in the soil-plant relationship evaluation, on the phyto and bioremediation, restoration of contaminated environment, and on
the recycling and remediation of waste materials
. Department is highly experienced in model pot experiments in indoor and outdoor weathercontrolled conditions,
rhizobox experiments
as well as in the model field experiments[/mevo_about_me]
[mevo_about_me name="Hypothesis:"]Development of analytical technics lead to the growing number of contaminants determined in the individual components of the environment, originating
from the industry
, as well
from daily human being activities
. We assume, that compounds released into the environment
can be bound in biological materials, further degraded or transformed
. The determination of bound compounds will depend on the origin of biological materials, and will behave differently according to different content of major components, active compounds and pigments in matrices[/mevo_about_me][mevo_about_me name="Annotation:"]Advanced analytical instruments allow
significant improvement of sensitivity and accuracy
of contaminants and their metabolites determination in the individual components of the environment, extending the spectrum of possible contaminants investigated. The determination of low concentrations requires new approaches to samples preparation, storage, extraction procedures as well to their determination.
The PhD task will mainly focus on
the determination of emerging contaminants originated from pharmaceuticals, personal care products, industrial additives, their metabolites as well degradation products in waters, soils, plants and waste materials of biological origin (sewage sludge, manure, slurry, composts) where mentioned compounds can accumulate, transform, or degraded. The evaluation of the extractability, stability, and transformation of individual compounds during processing, storage, and determination of different matrices
will be part of the study too
.[/mevo_about_me]